Saturday, March 12, 2022
Bryce Canyon National Park – a guide for visiting with your dog
As with most national parks, Bryce Canyon has restrictions on where you can adventure with your dog. The most significant restriction is that dogs are not allowed on hiking trails. However, they can accompany you on some walkways and paved viewpoint areas. Even though you won't be doing any hiking, you can still enjoy the park by walking your dog to the main viewpoints and driving to scenic overlooks. Here's our guide for enjoying a dog-friendly visit to Bryce Canyon National Park.
Morning Itinerary
Watch the sunrise at Sunrise Point
The first stop of the day is Sunrise Point. The view of the canyon from this viewpoint during sunrise is an experience that you will always remember. I visited Sunrise Point in the wintertime. The combination of colors from the white snow, tall green pines, and orange spike-shaped rocks illuminated by the warm glow of the rising sun was one of the most beautiful experiences in nature I've ever had. You can read more about my experience in this post: A lovely morning walk at Bryce Canyon National Park.
I recommend arriving 30 minutes before sunrise, allowing enough time to secure a parking spot and walk to the viewpoint. At the beginning of the Sunrise Point trail you will notice a sign that appears to read dogs are prohibited from the trail. The meaning of this sign is explained in the "Pets Prohibited" Signs section of this post, but what you need to know is that it does not apply to the Sunrise Point Trail. It applies to the connecting trails.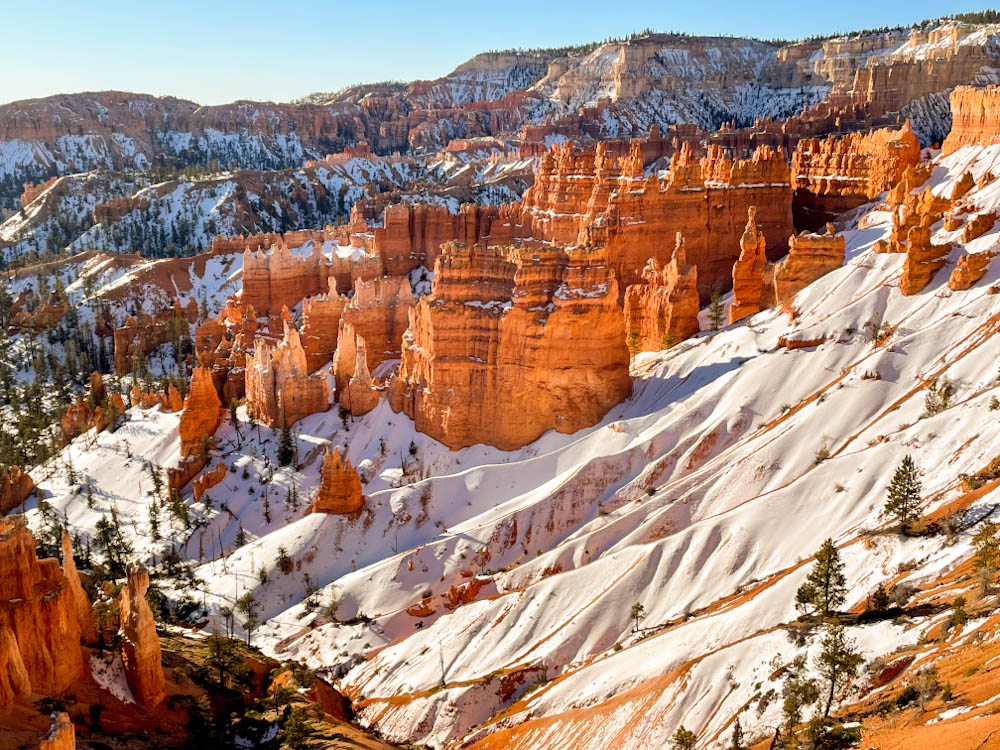 Walk to Sunset Point
After taking in the scenic view of Sunrise Point, you can walk your dog to Sunset Point. The Sunset Point trail is a 1.1 mile (one-way) paved walkway. The trail passes along the rim of the canyon where you can continue to admire rock formations throughout the entire walk.
Afternoon Itinerary
Drive to the Scenic Overlooks
These overlooks are all dog-friendly except for Piracy Point.
Bryce Point is a short 0.2 mile out-and-back paved trail that has the most panoramic view of Bryce Canyon.
Swamp Canyon overlook provides one of the closest views to forest pines and rock formations from a viewpoint.
Piracy Point has a view of rolling hills and tall pine trees that goes on for miles. This trail is connected to the Fairview Point parking area. Dogs are not allowed on the connecting trail.
Fairview Point overlook provides a similar view as Piracy Point which includes forest and rolling hills in the distance.
Bryce Natural Bridge frames the forest behind with its natural circular rock formation. Depending on your photography preference, the afternoon sun provides the best lighting for this attraction.
Agua Canyon overlook provides a close view of towering cliffs.
Ponderosa Point views a small valley of pine trees surrounded by large rock formations.
Black Birch Canyon is another view of a valley of pine trees surrounded by large rock formations.
Yovimpa Point is a short walk to an overlook where you can see mountainous orange rock walls.
Rainbow Point provides an overall view of the above viewpoints from a side perspective.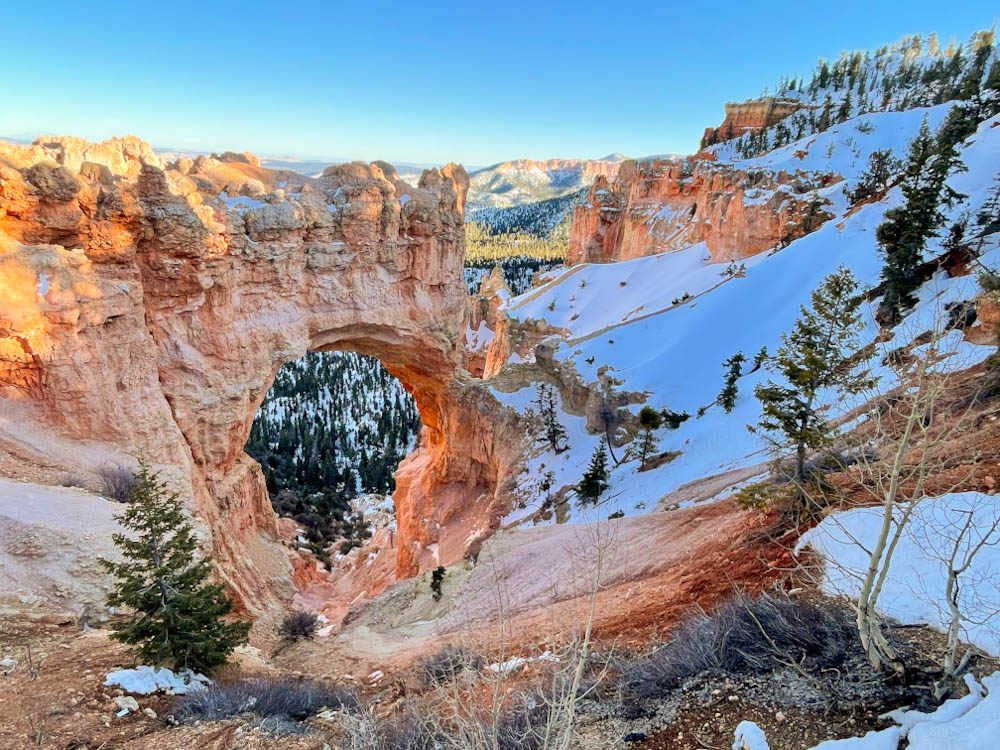 "Pets Prohibited" Signs
There are signs at the entrance of each trail to indicate if dogs are prohibited. One sign in particular causes confusion about where dogs are allowed. This sign is located at the entrance of each dog-friendly trail mentioned above. The sign reads "no pets or bicycles allowed on trails." This sign does not apply to the trails listed. This sign only applies to trails connected to the dog-friendly ones. At each of those trails, you will see the appropriate no pets on trails signage.
Nearby Dog Daycare and Boarding
If you've enjoyed a day with your dog at Bryce Canyon National Park and want to explore the areas that aren't dog-friendly, there are a few kennels available nearby. You should review and contact these kennels directly for more information.
Pawz

Phone: (435) 691-3696
Address: Panguitch, UT

Doggy Dude Ranch

Phone: (435) 772-3105
Address: 800 E Main St, Rockville, UT 84763

On the Spot Play and Stay

Phone: (435) 680-6666
Address: 1545 W State St, Hurricane, UT 84737

 Happy Horse & Dog Pet Resort

Phone: (435) 899-9335
Address: 113 Hidden Creek Rd, Fredonia, AZ 86022

Naughty Dog Training and Boarding

Phone: (435) 767-7362
Address: 161 N State St, Hurricane, UT 84737
Basic Park Rules
The park does have a few, but completely reasonable rules for dogs.
Dogs must be on a leash no longer than 6 feet at all times.

This rule should always be followed. National Parks inhabit a lot of wildlife and it's our responsibility to ensure that our dogs don't chase or disturb the wildlife in any way.
Following this rule also shows National Parks that dog owners are responsible, which may create new opportunities for other parks to lower their pet restrictions in the future.

Bag your dog's waste. There are plenty of garbage cans throughout the park where you can dispose of the waste after you bag it.
 Leashed dogs are only allowed on designated trails (paved walkways and viewpoint areas).
Tips and Suggestions
Start Early. Get an early start to beat the crowds and watch the sunrise.
Visit Before Peak Season. Visiting in late winter or early spring will lead to fewer crowds. I visited Bryce Canyon in mid-march and enjoyed minimal traffic and pedestrians at the overlooks.
Annual National Parks and Federal Recreational Lands Pass. If you're planning multiple trips to National Parks and monuments within a year, the annual pass is the best option to save money and it pays for itself after only three visits. Visit the National Park Service website for more information on the annual pass.