Monday, January 10, 2022
A Half-Day of Hiking and Lunch Spots at Harpers Ferry National Park
You'll be pleasantly surprised after a visit to Harpers Ferry National Historical Park. It might not have an abundance of wildlife or extreme elevations, but it does offer an immersive experience of history. It's also a great place to go hiking, browse shops, and find great lunch spots. Best of all, it's dog-friendly! Like every National Park that allows dogs, it does come with some restrictions, but we think they're pretty minor for the experience you can still have.
Getting There and Parking Areas
The most common entrance and designated parking area is at the Harpers Ferry visitor center on Shoreline Drive. Most visitors take the free shuttle service into town, however, the shuttle is NOT dog-friendly. If you decide to park here, you can hike the​​ 1.6 mile Lower Town Trail into town.
If you prefer not to hike the Lower Town Trail, there are paid parking options right in town. The first two options are street parking on Potomac Street and the Potomac Street station parking lot (directions). Parking spaces are limited in these areas and can fill up quickly.
Another option is public parking located on Shenandoah Street (directions). If you park here, you'll need to walk the rest of the way into town, which is about 0.7 miles.
Half-Day Itinerary
Hike the Lower Town Trailhead into Harpers Ferry
This is a great option if you can't find a parking spot in town and want to do some extra hiking. The 1.6 mile (one-way) Lower Town Trail begins at the Harpers Ferry Visitor Center and has additional connecting trails you can use to get into town. Starting at the visitor center, you'll take the path through a wooded area and make your way to Shoreline Drive. You can walk the remaining distance on Shoreline Drive into town, but we recommend following the River Access Trail to the Virginia Island and Hall's Island Trail.
The River Access Trail provides a great view of the Shenandoah River and Bridge. The Virginia Island and Hall's Island Trail provide opportunities for seeing deer, bird watching, and viewing other wildlife. There are also several landmarks and information boards along this trail where you can learn about the history of the area.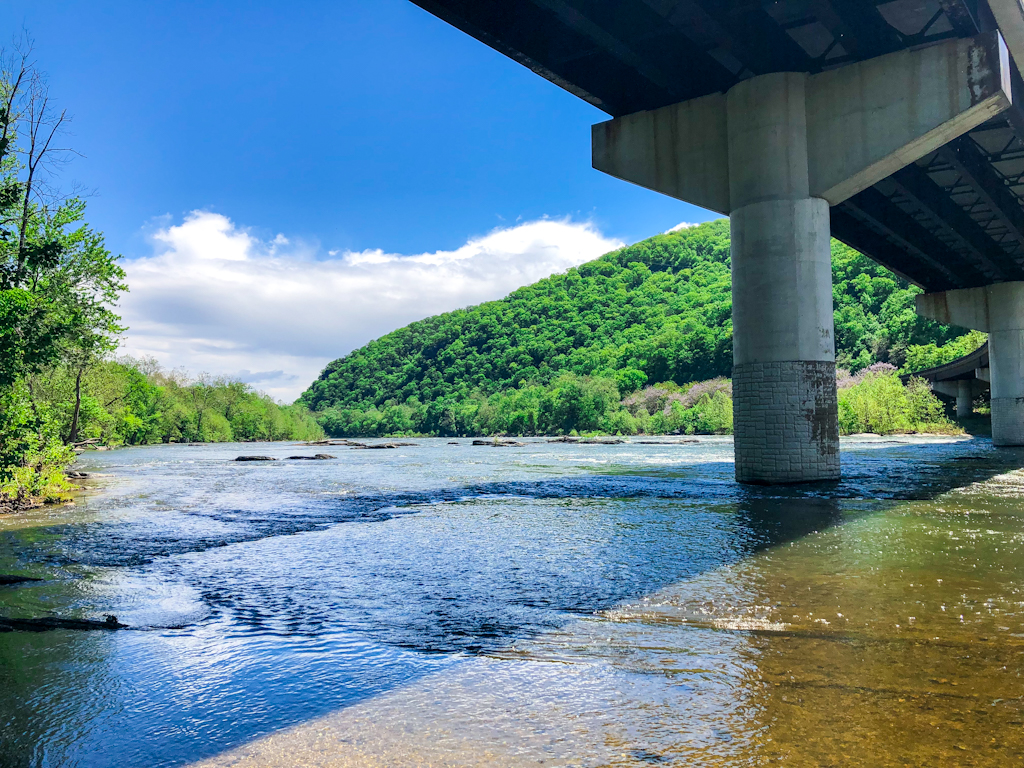 Hike the Maryland Heights Trail
Maryland Heights is one of the most popular trails in Harpers Ferry. The main overlook of Maryland Heights offers a spectacular view of the Harpers Ferry town below. It's also an excellent place to watch the sun setting behind the town. The 4.5 mile trail is full of history and can be extended to a 6.2 mile hike if you include the Stone Fort Trail.
Explore the Town and Grab Some Lunch
For such a small town, there's actually a lot you can see and do. You can find yourself reading history about historic buildings and monuments, standing at The Point overlooking the Shenandoah River and Shenandoah River Bridge Pylons, or crossing the impressive Winchester and Potomac Railroad Bridge.
Nearby Dog-friendly Restaurants
Basic Park Rules
The park does have a few, but completely reasonable rules for dogs.
Dogs must be on a leash no longer than 6 feet at all times.

This rule should always be followed. National Parks inhabit a lot of wildlife and it's our responsibility to ensure that our dogs don't chase or disturb the wildlife in any way.
Following this rule also shows National Parks that dog owners are responsible, which may create new opportunities for other parks to lower their pet restrictions in the future.

Bag your dog's waste. There are plenty of garbage cans throughout the park where you can dispose of the waste after you bag it.
Leashed dogs are only allowed on designated trails.
Tips and Suggestions
Plan Ahead. Before taking your dog on a hike, you must know your and your dog's hiking abilities. Bring plenty of water and do additional research on the park ahead of time. For more information on Harpers Ferry National Park, visit their website.
Annual National Parks and Federal Recreational Lands Pass. If you're planning multiple trips to National Parks and monuments within a year, the annual pass is the best option to save money and it pays for itself after only three visits. Visit the National Park Service website for more information on the annual pass.